Look For Events Location AR
When studying my MSc thesis project at Cranfield University, I was really keen in Augmented Reality (AR). This is why I proposed this subject in addition to make it on the Android platform, because I really loved the way Android was changing the mobile and smartphones scenario.
My first training course of Android development was at 2011 on my home university in Spain, at Polytechnic University of Valencia. Thus, it really enhanced my interest for the platform.
This made me sure, that Android would be the right decision for the project and the foreseeable future.
At my original post at 2012 on my previous blog
Insights and projects on Tumblr, I mentioned the following information: MSc Thesis project final screenshots of the validation test.
The final topic of my MSc thesis project was: Using Augmented Reality and Geo-location in Android Mobile Devices to Visualise time dependent data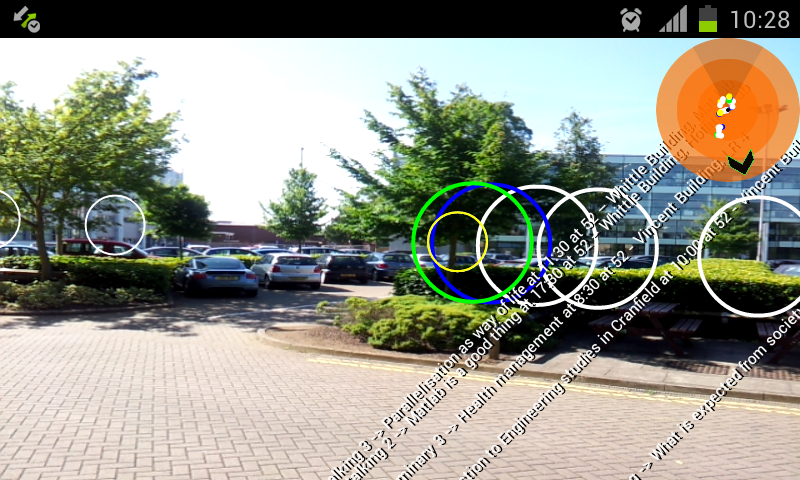 As it is shown different events of interest are shown by the Augmented Reality / Geo-location system.
Overview:
In the screen there are 3 ongoing events, 1 event that will start in 1 hour at least as well 1 event that will start in more than an hour
Basically are color dependent, where each color indicates the proximity in time to the current time wherever you are.
Circles sizes indicate the proximity in distance.
Rules:
Blue for events than are far away in time.
Green for events about one hour
Yellow for events that have more than 30 minutes
Red for events really close in time
White for ongoing events.
Written on August 31, 2012